5E0SPBK2-T - Direct Burial Outdoor Rated Cat5e Cable, 1000ft Spool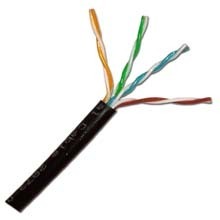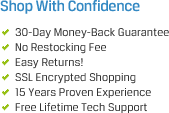 Related Categories
For project pricing and freight quotes on large wire & cable orders please call us now! 1-855-818-5556
The 5E0SPBK2-T Direct Burial Outdoor Rated Cat5e Cable is a 350 MHz high performance network cable designed to support high performance network applications where the cable is installed outdoors or in the ground. The 5E0SPBK2-T uses a special internal water block tape construction that stops all moisture from entering the cable jacket that could cause future corrosion or signal loss.
This premium 350 MHz direct burial rated Cat5e cable exceeds ANSI/TIA/EIA 568-A-5 and ISO/IEC 11801 specifications while offering the protection you need in critical outdoor network installations.
Includes: (1) 1000ft Spool of Direct Burial Outdoor Rated Cat5e Cable
Direct Burial Rated with Water Block Tape Construction
UV Rated
350 MHz - ANSI/TIA/EIA-568-A-5 Category 5e
Rated for commercial and residential network applications
4-pair twisted pair cable
Conductor: 24AWG Solid Annealed Bare Copper
High-density polyethylene insulation, PVC jacket
ETL verified to TIA/EIA 568-A-5 and ISO/IEC 11801
Universally accepted design and approvals for global commercial network installation
Part#: 5E0SPBK2-T
How common is the use of direct burial Cat5e?
Direct burial rated Cat5e cable is getting more and more popular as people are adding or installing network devices in the outdoors. There are numerous applications in both a home and business network installation where direct burial rated Cate5e is vital. Some of these applications include installing IP cameras, connecting two buildings in a network, using Cat5e as a CCTV cable to carry video, installing phone or internet services in a back yard, or any other applications where Cat5e cable is installed in an outdoor environment.
When should I use Direct Burial or Outdoor Rated Cat5e Cable?
Whenever you have a Cat5e cable installed in the ground or outside exposed to the environment you should move to a direct burial rated Cat5e cable. This cable type is suitable for being buried directly into the ground, but it is also UV resistant so it will protect the cable from sunlight, rain, and any other environmental conditions that could cause the cable to fail.
I noticed that your 5E0SPBK2-T uses water block tape. What is that?
The two most common types of direct burial rated Cat5e use either a Gel filled or water block tape construction. This describes the internal construction and method that is used to protect the internal pairs of a Cat5e cable. The 5E0SPBK2-T uses a water block tape construction which means all the pairs are wrapped in this special water block tape that will immediately absorb any moisture or condensation that may enter the external cable jacket.
What is best? Water block tape or gel filled direct burial Cat5e cable?
Both of them are just as effective for installations where the cable is buried or exposed to the environment. The water block tape type is much cleaner and easier to work with where the gel filled type is the opposite. The gel filled Cat5e cable has been around for a longer time so most people are use to using it in their network installations. It really comes down to personal preference. If cost is a concern for you the water block tape Cat5e cable is much less expensive due to less manufacturing steps when making the cable.
Does direct burial rated Cat5 perform differently than standard Cat5e?
No. The performance of a direct burial rated Cat5e cable is never affected. The only difference is the outer jacket and the material that is inside protecting the copper pairs from moisture.
Do I need special connectors to terminate direct burial Cat5e?
No. The standard RJ45 modular connectors will work fine with direct burial rated Cat5e. There are no special connectors, jacks, or parts to buy.
Should I install my direct burial rated Cat5e in a conduit?
Even though this cable is called "direct burial" it is always best practice to install your cable in some type of conduit when putting it in the ground. The conduit will make it much easier for you to repair, replace, or add cables in the future. Plus using a conduit will only add more years to the life span of your cable. If you use a conduit and your cable goes bad, it is much easier to pull a new cable through the conduit instead of having to re-dig an entire trench. Using a conduit to install underground cables is always the best installation method.