FSW-0809 - LevelOne 8-port Ethernet Switch with 4 PoE Ports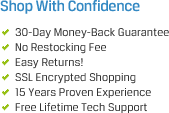 Related Categories
The LevelOne FSW-0809 is an eight port Fast Ethernet Switch that incorporates PoE functionality for flexible network efficiency. Four ports on the FSW-0809 are PoE enabled making it an ideal solution for most office users that have PoE enabled devices located around the office. These products can include a mixture of PoE IP Phones, PoE Wireless Access Points and PoE IP Cameras.
The FSW-0809 is the perfect answer for offices that are upgrading their office equipment and LAN infrastructure to include PoE capability. The switch automatically detects IEEE 802.3af-compliant device connected and provides power and data over a single cable to these devices.
The FSW-0809 enables users to deploy a stable and reliable high-speed LAN environment, with store-and-forward switching architecture, packet error filtering and non-blocking packet forwarding. The 802.3x and backpressure flow control mechanisms work respectively for full and half duplex modes. This device supports N-way auto-negotiation protocol that automatically detects networking speed and duplex modes.
Includes: (1) FSW-0809 8-port Ethernet Switch with 4 PoE Ports 
8-port 10/100Mbp Ethernet Switch with shared 4 PoE ports
Features 4 PoE ports with classification identify
Supports 15.4W maximum per PoE port
Total PoE power budget 30W
Supports automatic PoE Powered Device (PD) classification detection
Supports over current protection and circuit shorting protection
Provides a Store-and-Forward and Non-blocking switching architecture
Complies with IEEE 802.3, 802.3u and 802.3af standards
Supports back-pressure (half duplex) and flow control (IEEE 802.3x)
Supports up to 1K MAC address table
Provides 96 Kbytes packet buffer
Front-panel diagnostic LEDs
EMI and Safety: FCC class B, CE mark Class B , VCCI-
Dimensions: 171mm x 98mm x 29m
Part# FSW-0809