FEP-0811 - LevelOne 8-Port Fast Ethernet PoE Switch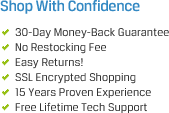 Related Categories
The LevelOne FEP-0811 is a high-performance 10/100Mbps Ethernet PoE Switch that features 8 PoE ports that are powered up to 15.4w. The total PoE power budget is 123.2w. The FEP-0811 automatically detects IEEE 802.3af compliant powered devices and provides power and data over a single cable. It's an ideal solution for office and home users to utilize a combination of PoE and non-PoE devices.
With data and power over Ethernet from one unit, the FEP-0811 can reduce cables and eliminate the need for dedicated power outlets on the wall, ceiling or any unreachable place. The FEP-0811 uses a network cable to carries both data and power lowering the installation costs, simplifying the installation effort, and eliminating the need for electricians or extension cords.
The FEP-0811 enables users to deploy a stable and reliable high-speed LAN environment, with store-and-forward switching architecture, the FEP-0811 provides a stable and reliable packet error filtering and non-blocking packet forwarding architecture. This device supports N-way auto-networking speed and duplex modes. Providing 8 PoE interfaces, the FEP-0811 is ideal for small businesses and workgroups needing to deploy PoE for wireless access points, IP-based surveillance cameras or IP phones in any place easily, efficiently and cost effectively.
Includes: (1) FEP-0811 8-Port Fast Ethernet PoE Switch
Complies with IEEE 802.3af, 802.3, 802.3u and 802.3x
8 x PoE ports support 15.4w power on each port to PoE Powered Device
Each Switching port supports 10/100Mbps auto-negotiation
Auto-MDI/MDI-X detection on each RJ-45 port
4K MAC address table, automatic source address learning and ageing
Package include mounting accessory, power cord, and quick installation guide
11-inch metal case with 19-inch rack mount holder
Internal power supply
Total PoE power budget: 123.2w 
Safety Approvals: CE, FCC
Dimensions: 280 x 185 x 44mm
Part# FEP-0811