LCD-1 - VMP Small Flat Panel Articulating Wall Mount, 10" to 23" Flat Panels, Silver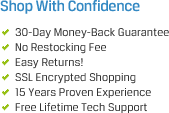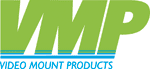 Related Categories
The VMP LCD-1 is a multi-configurable flat panel wall mount that can handle a wide variety of applications. The mount can be used as a single arm, double arm or near flush wall mount. The LCD-1 is designed to support 10" to 23" flat panels and has a 25 pound load capacity.
The VMP LCD-1 Small Configurable Flat Panel Articulating Wall Mount features an adjustable -5º to +20º tilt, rotates 240º at the flat panel, rotates 240º at the elbow joint (double arm configuration), and rotates 160º at the wall. The LCD-1 includes feed through wall plate with decorative cover, clip based cable management, and accommodates flat panels with 75 or 100 mm VESA hole patterns.
All required mounting hardware is included for a successful installation.
Lifetime Warranty
Includes: (1) LCD-1 Small Configurable Flat Panel Articulating Wall Mount
Holds most 10" – 23" flat panels
Can be configured as a single arm, double arm or near flush mount with parts provided
Accommodates flat panels with 75 or 100 mm VESA hole patterns
Adjustable -5º to +20º tilt
Rotates 240º at the flat panel
Rotates 240º at the elbow joint (double arm configuration)
Rotates 160º at the wall
Feed through wall plate with decorative cover
Clip based cable management system
Load capacity - 25 lbs.
Silver powder coat finish
Dimensions: 4.5" x 6" x 15.3" (fully extended) (W x H x D)
Part#: LCD-1