1922-3-300-01 - Kendall Howard 20" Rack Mountable Sliding Shelf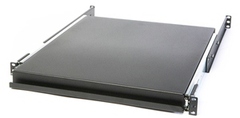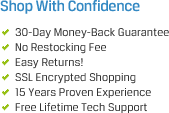 Related Categories
The Kendall Howard 1922-3-300-01 20" Rack Mountable Sliding Shelf is perfect for servers, keyboards, KVM's, switches, or any other network components that you want the ability to slide out from the rack or cabinet for access purposes.
The 1922-3-300-01 20" Rack Mountable Sliding Shelf has a 100-pound maximum weight capacity. It has a 20" depth with a 16.5" width, while extending a full 18" out of the rack. Having the ability to slide the shelf out of the rack makes it easy to access the back of mission critical network components and electronic devices. It also makes cabling much easier! The mounting ears on the 1922-3-300-01 will mount in any 19" EIA Compliant rack with a minimum mounting depth of 19" and maximum mounting depth of 28". Once the 1922-3-300-01 is mounted into your rack or enclosure you can immediately start stacking equipment on it.
The Kendall Howard 20" Sliding Rack Shelf does not include mounting screws. Evaluate the screw size and types that your rack or equipment cabinet requires and buy the right screws for the installation.
All Kendall Howard rack shelves are made in the USA and backed by a Limited Lifetime Warranty.
Includes: (1) 1922-3-300-01 20" Rack Mountable Sliding Shelf
4 mounting holes per U space
20" depth
Mounting depth adjusts from 19" to 28"
100 lb. weight capacity
Rounded corners
Easy to install
Made in the USA
Limited Lifetime Warranty
Part#: 1922-3-300-01