IP150 - Paradox Internet Module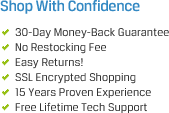 Related Categories
The IP150 Internet Module is an Internet communication module that enables you to control and monitor your security system through any web browser (e.g. Internet Explorer). The IP150 provides freedom to access your system and receive email notifications anywhere in the world.
The IP150 provides SSL-encrypted email notifications when certain events occur. The module offers a log function that can log up to 64 events, which can be viewed online with improved speed, two web-controlled PGMs – all packaged in a space-saving design.
The IP150 replaces the Paradox IP100 Internet module. New features include:
SSL support for sending secured emails via a secure sockets layer; a protocol for encrypting information over the Internet
HTTPS Secure support for improving security (HyperText Transfer Protocol Secure; a widely used communications protocol for secure communication over a computer network)
Two I/Os on board; controlled via the web interface, triggering an email
Event log on web interface; displays last 64 events
Easy installation; built-in clip for mounting in a metal box
In order to connect to the IP150, the associated iParadox must be upgraded to the latest available version.