R161004: IDEAL Lantek III 1000 MHz Cable Certifier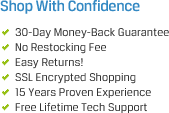 Related Categories
The IDEAL Networks R161004 LanTEK III 1000 MHz Cable Certifier is an easy to use device that meets existing TIA/EIA performance requirements for testing up to CAT7/7A/ISO Class F/Fa.
New Troubleshooting Features Save Time and Money
Should a cable prove to be faulty, troubleshooting is easy with the introduction of Time Domain Return Loss (TDRL) and Time Domain Near End Cross Talk (TDNEXT) measurements.
Modular Solution to Reduce Capital Costs
For many cable installers there is pressure to reduce capital equipment costs. The R161004 LanTEK III uniquely offers a pick and mix solution of components, therefore you only pay for what you need. This includes a wide range of test modules, accessories and Careplans to satisfy your specific requirements.
New Permanent Link (PL) Adapter Saves Money
New PL adapters reduce down time and lower maintenance costs with field replaceable RJ45 contacts that eliminate the need to replace the complete adapters. New PL adapters feature centred connectors to ensure compatibility with all brands of Cat. 6A/Class EA cabling solutions. The PL adapters use high performance, ultraflexible cable that allows them to be used in confined spaces without damaging the PL adapter or the outlet being tested.
Test Data When You Want, Wherever You Want
Using the free IDEAL AnyWARE app, field technicians can share test data with colleagues or customers without leaving the jobsite, resulting in greater collaboration, more on-time job completions and reduced costs.
deal R161004 LanTek III Cable Certifier
Includes:
1 - 1000 MHz Cable Certifier
1 - LanTEK III Display Handset
1 - LanTEK III Remote Handset
2 - Li-ion Batteries
2 - Universal Power Adapters
1 - USB Cable
2 - Headsets
2 - Hanging Straps
1 - Quick Reference Guide
1 - USB Wi-Fi Adapter
2 - Permanent Link Adapters (R161051)
1 - Carrying Case