ICCABR6FBL - Cat6A 650 MHZ 10Gig CMR Shielded Cable, 1000ft Spool, Blue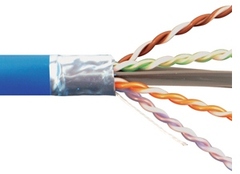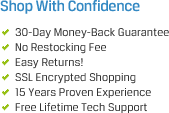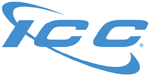 Related Categories
The ICC ICCABR6FBL Cat6A 10Gig 650 MHz CMR (Riser Rated) FTP Shielded Network Cable is designed for supporting shielded 10Gig Ethernet applications (10GBASE-T). It is perfect for high bandwidth applications such as data centers and other data intensive or backbone requirements. The ICCABR6FBL features a CMR rated jacket designed to support installations in riser building installations required by local building codes. It also includes Mylar shielding for EMI (electromagnetic interference) protection and a drain wire for grounding to CAT 6A FTP shielded connectors.
The ICCABR6FBL Cat6A 10g FTP Shielded 4 Pair Network Cable is engineered to provide the highest possible 10 Gigabit performance in a shielded non-plenum cabling environment. This Cat6A 10Gig cable is manufactured for maximum performance using 23 gauge solid bare copper conductors, overall shielding, cable spine separator, drain wire, and integrated rip cord to simplify installation.
We offer a huge selection of Cat6A shielded keystone jacks and Cat6A shielded patch panels to support a complete plenum Cat6A 10Gig shielded cabling environment.
Includes: (1) ICCABR6FBL Cat6A 10Gig 650 MHz CMR FTP Shielded Network Cable
650 MHz - 10Gig
Mylar shielding for EMI (electromagnetic interference) protection
Drain Wire for grounding to CAT 6A FTP Shielded connector
Industry Standards: ETL Verified to TIA-568-C.2, UL Type CMR for non-plenum, FT4, UL 444
Applications: 10 Base-T, 100 Base-T (IEEE 802.3u), 1000 Base-T, High Definition Video, Digital Broadcast Video/IP Video/VoIP, ISDN/ADSL, 622Mbps ATM
Conductor: Solid Bare Copper
Insulation: FEP
Jacket: Flame Retardant PVC
Cable spine separator X
Component: 4 twisted pair
Outer Dia. (in): 0.34"
Sequential footage marking for easy usage tracking
Part#: ICCABR6FBL