HCC-42 - SCP 42" Structured Wiring Enclosure with Hinged Door & Lock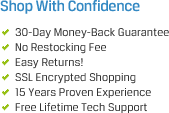 Related Categories
The SCP HCC-42 42" Structured Wiring Enclosure with Hinged Door & Lock is industry known for quality and value. The HCC-42 is designed for both residential and commercial installations.
The HCC-42 enclosure includes a knockout for a single gang J-box on the bottom for electric plus markings on the enclosure which allows for mounting with varying thickness of sheetrock.
The HCC-42 enclosure includes a hinged cover that overlaps the enclosure frame to hide uneven drywall edges. It also includes a cardboard insert to protect the enclosure from elements during the construction phase. The HCC-42 features a standard pattern 1 in. x 6 in. which accepts most brands of modules.
Includes: (1) HCC-42 42" Residential Structured Cabling Enclosure
Designed with steel construction
Designed to serve as the central point for voice, data, video, audio, and security services for smaller residential structured wiring systems
Allows for internal modules to be mounted horizontally or vertically
Integrated snap-in module system enables users to quickly insert or move the internal modules
Includes top, bottom, rear, and side knockouts for routing cables
Includes a knockout for an optional AC power outlet (not included) to provide power distribution
Fits between 16" wall studs
Designed with a door latch and an optional door lock knockout
UL Rated
Part#: HCC-42