DR16HD-6TB - Ganz Digimaster 16 Channel 480fps H.264 Video Recorder, 6TB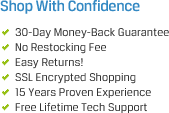 Related Categories
The Ganz DR16HD-6TB Digimaster 16 Channel 6TB CCTV DVR is one of the most trusted security DVRs on the market. The Ganz Digimaster brand is trusted by home owners, business owners, IT managers, and professional installers all over the world!
The Ganz DR16HD-6TB Digimaster 16 Channel CCTV DVR supports 16 cameras in a residential or commercial surveillance application. It provides 480fps real time recording utilizing cutting H.264 compression technology. The DR16HD-6TB is preloaded with the powerful Digimaster software which makes managing your surveillance system easier than ever! The DR16HD-6TB includes a 6 terabyte hard drive, DVD writer, USB?mouse, hand held remote, and USB memory stick.
The Ganz DR16HD-6TB video recorder is network ready and allows you to view your cameras and manage your system from any computer or mobile device in the world! The Ganz DR16HD-6TB supports iPhone, iPod Touch, iPad, and Android applications. All mobile and remote software is free!
The Ganz DR16HD-6TB Security DVR includes all the critical surveillance features needed to ensure your security video is properly handled. Some of the great features of the DR16HD-6TB include: Pentaplex Operation, PTZ control Network, Archive to CD, DVD, USB drive or direct to HDD, High Resolution Recording, Health Management, HDMI, Remote access via Network, and much more…..
Includes: (1) DR16HD-6TB H.264 16 Channel Video Recorder with DVD Writer
6 Terabyte Hard Drive
Efficient H.264 compression
480 ips real-time recording
Pentaplex Operation - Simultaneous Live / Record / Playback / Archive / Network
High resolution recording up to 704 x 480 (D1)
Remote access via Network / Lan through web browser &?DMS?software
HDMI?output supports 1280 x 1024 display resolution
Archive to CD, DVD, USB drive or direct to HDD
Video access through mobile devices
USB?mouse, hand held remote, and USB memory stick included
PTZ control (drivers for most popular models included)
Instant playback via quick access menu
Supports up to 4 internal hard disk drives
UL Listed, CE Compliant, FCC Compliant
Part#: DR16HD-6TB