EVA-F5521-3Q - SECO-LARM 3 Ft Male DC Power Adapter Plug Pigtail Cable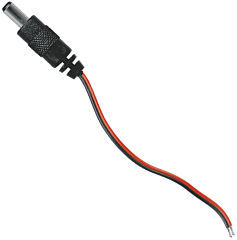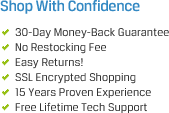 Related Categories
The SECO-LARM EVA-F5521-3 is a 3 ft Male DC plug power adapter cable used for security camera power installations. The EVA-F5521-3 features a DC plug connector that allows you to easily attach a raw power cable to a standard 12VDC security camera.
Most 12VDC security cameras come with both power and video cable leads coming out of them that allow you to easily attach the necessary wires and cables to them. The power cable coming out of the camera will have a DC jack on it for you to plug your power cable into. This power lead cable coming out of the camera is how you get power to the camera for it to power up. You may be tempted to just cut the connector off the power cable from the camera to just splice the main power cable onto the camera. This is highly not recommended! Once you cut any connectors off of a camera you officially void the warranty you might have had when you bought it.
The best practice for a 12VDC security camera installation is to splice the EVA-F5521-3 pigtail and the main power cable together. Once you have spliced them together you will have a connector in place on the end of your main power cable. Now you can simply plug the power cable into the camera and you are ready to power the camera. A pigtail will allow you to create the connections you need while insuring a clean professional installation.
Includes: (1) EVA-F5521-3 3 Ft Female DC Power Adapter Pigtail Cable
Male DC Power Adapter Cord (Pigtail connector)
For easy installation and serviceability
Three-foot wire length
Part#: EVA-F5521-3