SM5-EQ-PRO - ETS Professional Audio Monitoring Kit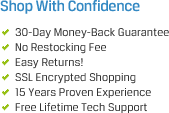 Related Categories
The ETS SM5-EQ-PRO Professional Audio Monitoring Kit is a single zone audio surveillance system for use where sound quality and recording of conversations is of critical importance. The kit includes professional grade Cardioid pattern microphone and DVR-I/P camera interface featuring 48Vdc phantom power supply, ultra-low noise microphone preamplifier, 7 band equalizer and compressor/limiter (automatic level control). The equalizer provides +/-12db sound emphasis or de-emphasis in 7 ranges of frequencies (60hz-15khz) for tuning out background noise and emphasizing the desired sound qualities in acoustically difficult environments such as interrogation / interview rooms. The SM5-EQ-PRO features a compressor / limiter that automatically lowers the gain in loud environments and when quiet, raises the gain where faint audio sources such as people whispering can then be heard.
The ETS SM5-EQ-PRO Professional Audio Monitoring Kit Includes: 1ea. PCCM-1 Microphone, PACEQ-1 Pre-amplifier/ EQ/ CL DVR interface, 12 Vac AC adapter, 3' RCA cable, Warning label, and installation instructions.
Microphone Wiring Requirements: Stranded 22-gauge, 2-conductor shielded cable with drain wire or high grade microphone cable.
Maximum Cable Length: 500 feet
Includes: (1) SM5-EQ-PRO Professional Audio Monitoring Kit
PCCM-1 Microphone Specifications:
Surface mount black (or white) plastic enclosure
Enclosure dimensions: L 5.1" W 2.7" H 1.4"
XLR mounted microphone
Recessed terminal strip for connecting cable
Back Electret Condenser cartridge
Cardioid pickup pattern
Frequency response 30hz-18Khz
48Vdc phantom powered
Sensitivity –53db
Impedance 200 Ohms
S/N ratio: better than 60db
PACEQ-1 Interface Specifications:
Microphone input connectors: XLR or
direct wire terminal block.
Ultra low noise microphone pre-amplifier
Adjustable microphone pre-amp gain: 26db to 40db
Input impedance 1K Ohms
Input: RFI and transient protected
Integrated 48Vdc regulated phantom power supply
Phantom power on/off switch
Equalizer: 7 frequency band controls: 60hz, 150hz, 400hz, 1Khz, 2.5Khz, 6Khz, 15Khz. +/- 12db gain / cut for each frequency band
Equalizer on/off switch
Built in Compressor/ peak limiter
Threshold adjustment: –40 to 20db
Compression ratio continuously variable between 1:1 and Infinity:1
Two line level outputs: XLR balanced and RCA (or 3.5mm) unbalanced
Output level control: +/- 20db
Outputs short circuit protected.
Output impedance: 100 Ohms.
S/N ratio: better than 60db (EQ off)
Frequency response 20HZ-30Khz (EQ. off)
THD: .001%@ 1Khz.
Power consumption: 30ma@12Vac.
Auto-reset fused
Power indicator
Dimensions: L 5.3 x W 3.3 x H 1.6
Part#: SM5-EQ-PRO