Crescat-Q - Control White 18 AWG, 22 AWG 1 Pair, 4 Cat5e Cable, 500ft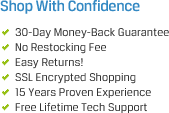 Related Categories
The Control White is a Crescat-Q equivalent cable that is designed to support Crestron system wiring. It includes an 18 AWG 2 conductor cable, 22 AWG 1 Pair Cable, and (4) Cat 5e Cables bundled in an overall jacket.
Crestron Home CAT5e AV distribution technology takes advantage of inexpensive CAT5e structured wiring to deliver a flexible and cost-effective solution for the distribution of audio, video, and intercom signals in homes and small businesses.
Within a single jacket, Crescat-Q is designed to facilitate fast and easy wiring for Crestron's AV distribution switchers, room solution boxes, intercoms, and touch panels. A single Crescat-Q cable provides full control and AV functionality for the CNXRMCLV or C2N-DAP8RC room solution boxes and numerous touch panel models.
Includes: (1) Control White 18 AWG, 22 AWG 1 Pair, 4 Cat5e Cable, 500ft
Crescat-Q Equivalent Cable
22 AWG 1 Pair Shielded + 18 AWG 1 Pair + (4) Cat 5e
Data Pair: 22 AWG x2 stranded bare copper
Power Pair: 18 AWG x2 stranded bare copper
Twisted Pairs: 24 AWG x8 solid bare copper
Includes Drain Wire
Striped for Easy Identifications - Teal with White Stripe
Includes Rip Cord
UL Rated for Permanent Installation - CL3
Jacket Material: PVC Non-Plenum
Rated Voltage: 300
Rated Temperature: 75 C
Flame Test: FT4
500ft Spool
Part#: Control White