IR-5010 - Channel Vision Plasma Proof IR Kit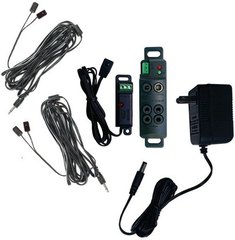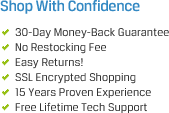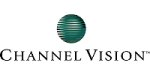 Related Categories
The Channel Vision IR-5010 Plasma Proof IR Kit allows you to hide your plasma receiver, audio source, cable box, and DVD equipment in a cabinet or separate room and control it without ever having to open the doors again. The Plasma Proof IR Kit is ideal for IR distances up to 1,000 feet.
The Channel Vision IR-5010 Plasma Proof IR Kit easily connects and controls AV devices and Security DVRs located behind closed doors up to 1,000 feet away. The IR-5010 is compact and allows for the hub of the IR system to stay hidden inside the equipment cabinet while the tiny IR receiver head is placed in an inconspicuous location. Included accessories allow for versatile mounting – on a TV, flat surface or flush mounted.
The IR-5010 allows you to use Cat5e cable to create the required connection between the IR Repeater Hub and the IR Receiver. This gives you the flexibility to mount the hardware in any location within a 1000ft.
The IR-5010 kit includes: IR Receiver, IR Repeater Hub, (4) IR Flashers, (5) Holsters, and power supply.
Includes: (1) IR-5010 Plasma Proof IR Kit
Effectively repeats infrared signals from a remote control to power AV devices hidden behind closed cabinet doors or from a remote location up to 1,000 feet away
Maintains signal integrity when placed near flat-panel displays, CFL lighting, indirect sunlight, and other infrared irritants to provide error free operation
Contains everything needed to control up to 4 devices in a single-room
LED lights provide power and IR signal indication for easy troubleshooting
IR Receiver:
Voltage Requirements: 8 – 12VDC
IR Frequency Range Supported: 30 kHz – 60 kHz
IR Pickup Range: 40ft. @ 38 kHz, 25ft. @ 56 kHz
IR Receiver head dimensions: 0.65" x 0.35" x 0.25"
Color: Black
IR Repeater Hub:
Voltage Requirements: 8 – 12VDC
IR Frequency Range Supported: 30 kHz – 60 kHz
Maximum IR receivers: 8
Dimensions: 1.10" x 1.03" x 4.25"
IR Emitter outputs: 4
Color: Black
Part# IR-5010