6200-282 - Channel Vision Flush Mount CCTV Camera, Black Finish, 550TVL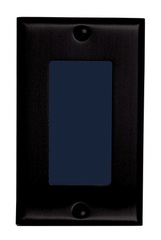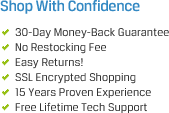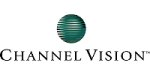 Related Categories
The Channel Vision 6200-282 is a high resolution single gang flush mount security camera perfect for surveillance camera options at the home or business. The 6200-282 features 550 lines of resolution, 3.8mm wide angled fixed lens, and 1 LUX sensitivity to support high quality imagery in low light applications. The 6200-282 comes with a black finished trim plate so you can create the most aesthetically pleasing look and match the décor of the area where you are mounting the camera. Channel Vision's 6200-282 single gang color camera is the perfect solution for any upscale surveillance applications requiring a discreet appearance.
The Channel Vision 6200-282 Single Gang Flush Mount CCTV Camera fits into a standard single gang box to provide a flush mount covert look. It features BNC and power pigtails that make adding it to a new or existing CCTV system simple and easy. This is the ideal security camera type to be installed outside doorways of homes and businesses, hallways, warehouses, retail stores, supply rooms, and any other areas you want to secure.
The Channel Vision 6200-282 Single Gang Flush Mount CCTV Camera includes: low voltage ring, black finished decora trim plate, adjustable mount, weatherproof gasket, 12VDC power supply, and camera with lens installed. You get everything you need for a successful installation.
Includes: (1) 6200-282 Black Finish 550TVL Flush Mount CCTV Camera
Adjustable Mount
Black Finished Decora Plate, Low Voltage Ring, and Weatherproof Gasket Included
Fits into standard single gang box
Provides a flush mount covert look
Attaches to any CCTV system using a BNC connection
1/3" CCD Image Sensor
3.8mm Wide Angle Lens
1 Lux Low-Light Sensitivity
550 Lines of Resolution
Camera Compact Size - 25mm x 25mm
View ground 3-1/2 ft. from wall at 6 ft. high
12VDC Power Supply Included
Signal Mode: Color CCD, 290,000 pixel
Number of Pixels: 510(H) x 493(V) EIA, 500(H) x 582(V)-CCIR
Synchronization: Internal
Scanning System: 2:1 Interlace
Electronic Shutter: 1/60~1/100,000 Sec. Automatic
S/N Ratio: More than 50dB
Gamma Correction: 0.45 Video
Video Output: 1Vp-p 75W
Operation Temperature: -10 Degrees C
Part#6200-282