064-485/A/BL - CAT6A 10Gb UTP Cable, CMR, 1000ft Spool, Blue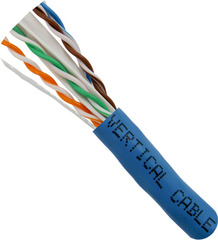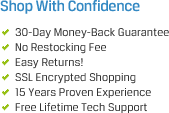 Related Categories
We offer a huge selection of high performance Cat6A CMR Rated cable. This is the Cat6A cable trusted by professional installers and IT managers to support 10GB high speed data applications.
This Blue CAT6A Cable is designed for indoor network applications. It features 23AWG solid bare copper conductors, 4 easily identified striped twisted pairs, and comes on a 1000ft wooden spool. This Blue CAT6A Cable is unshielded, CMR Rated, and exceeds ANSI TIA/EIA 568 C.2 standards. This is the cable you need for a high
0GB network!
CAT6A has more copper, which makes it a bigger circuit that both regular Cat6e and Cat5e. More copper means a bigger pipe that can deliver more data faster and farther. Take your network to the next level with our high performance CAT6A Cable!
Includes: (1) 1000ft Spool of Blue Cat6A Cable
Rated Temperature (ºC) 70
Rated Voltage (V) 30
Product Standard Certification CMR
Flammability Test
Conductor: Solid Bare Copper - Size 23 AWG, Diameter (mm): 0.585
Insulation: PE, Average Thickness: (mm) 0.268, Min. Point Thickness (mm) 0.245, Insulation Diameter (±0.005mm) 1.12, Twisted Pair Diameter (±0.01) 2.24, Separator LDPE
Assembly Diameter: 6.50
Jacket: PVC - Average Thickness (mm) 0.60, Min. Point Thickness (mm) 0.50, Outer Diameter (±0.10mm) 8.00, Rip Cord Yes
Mechanical Characteristics: Test Object: Jacket, Test Material: PVC, Before Tensile Strength (Mpa) ≥13.8, Aging Elongation (%) ≥100, Aging Condition (ºCxhrs) 100x168, After Tensile Strength (Mpa) ≥85% of unaged, Aging Elongation (%) ≥50% of unaged, Cold Bend (-20±2º Cx4hrs) No Crack
Marking on Jacket: VERTICAL 4001453 cETLus VERIFIED CMR UTP 4PR 23AWG 10GS AUGMENTED CAT6A TIA/EIA-568-C.2 RoHS
Electrical Characteristics: 1.0-100MHz Impendence (Ohms) 100±12 100-350MHz Impendence (Ohms) 100±15 350-750MHz Impendence (Ohms) 100±22
Part#: 064-485/A/BL