668-24C6AS - Platinum Tools 24 Port Cat6A Shielded Patch Panel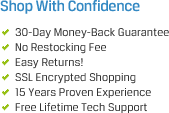 Related Categories
The Platinum Tools 668-24C6AS 24 Port Cat6A Shielded Patch Panel is an efficient and convenient solution to terminating shielded Cat6A cable runs.
Installers often use 24 port Cat6A patch panels in small and medium sized shielded network installations. Cat6A shielded networks are common in 10G environments.
The 668-24C6AS is a 1 rack mount space panel. It includes mounting screws to mount directly to a standard 19" rack, bracket, and/or cabinet.
The Platinum Tools 668-24C6AS 24 Port Cat6A Patch Panel is key to connecting and routing circuits in your network and beneficial to: *Keeping your cables tidy, *Making it easier to identify your cables, *Keep your cables secure, *Easier to re-configure your network, and *Easier to troubleshoot your network
Includes: 668-24C6AS 24 Port Cat6A Shielded Patch Panel
110 / Krone punch down tool compatible
Meets ANSI/EIA/TIA 568C.2 standard
Color coded label for easy wiring T568 A & B
Wire gauge range: 22 thru 26 AWG
Solid or stranded wire
Plastic housing: ABS
Gold plated RJ45 port contacts
Metal frame: SPCC
Part#: 668-24C6AS