2GIG-TAKE-345 - 2GIG Super Switch Wireless Takeover Module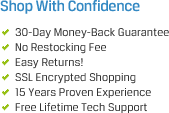 Related Categories
The 2GIG-TAKE-345 Super Switch is 2GIG's wireless takeover module. It is designed to convert 8 hardwired zones into eight wireless zones. The 2GIG-TAKE-345 simplifies the installation and works with existing 12-volt control panels. The module is to be mounted next to the existing control box where the hardwired zones are connected. All of the zones on the Super Switch act as supervised wireless zones.
The 2GIG 2GIG-TAKE-345 Super Switch Wireless Takeover Module includes: 1x - Super Switch, 1x - Mounting Plate, 2x - Philips Head Screw, 2x - Dry Wall Anchor, and 1x - Operating Manual.
The 2GIG-TAKE-345 Takeover Module has a 350ft wireless range to provide complete flexibility in an installation.
Includes: (1) 2GIG-TAKE-345 Super Switch Wireless Takeover Module
Wireless Signal Range: 350 ft., open air
Code Outputs: For each of the 8 serialized zones: Fault; Restore; Tamper ("Learn" mode); Low Battery
Transmitter Frequency: 345.000 MHz (crystal controlled)
Transmitter Frequency Tolerance: ± 15 kHz
Transmitter Bandwidth: 24 kHz
Modulation Type: Amplitude Shift Keying—On/Off Keying (ASK-OOK)
Unique ID Codes: Over one (1) million different code combinations
Supervisory Interval: 70 minutes
Peak Field Strength: Typical 50,000 uV/m at 3m
Dimensions (LxWxH): 3.54 x 2.56 x 1.13 in. (9.0 x 6.5 x 2.9 cm)
Weight (including bracket): 2.85 oz. (80.8 g)
Housing Material: ABS plastic
Color: White
Operating Temperature: 32° to 120°F (0° to 49°C)
Relative Humidity: 5-95% Non-Condensing
Operating Voltage: 9-16 volts DC, 50mA
Regulatory Listing(s): ETL, FCC Part 15, Industry Canada
Part#: 2GIG-TAKE-345