2GIG-Z-CT100 - 2GIG Z-Wave Programmable Thermostat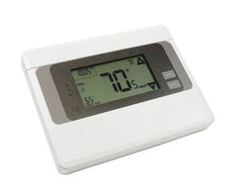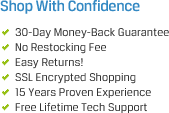 Related Categories
The 2GIG 2GIG-Z-CT100 Z-Wave Programmable Thermostat is a great add-on to your 2GIG Wireless Alarm System. It makes energy management easy with complete integration to your Go!Control Wireless Panel. The 2GIG-Z-CT100 Thermostat can be used with nearly any HVAC system and does not require a common wire for power.
The 2GIG 2GIG-Z-CT100 Thermostat has a 2 year battery life and features 4 stage heat, auto-mode, improved Z-Wave range, and a bright display with touch screen. The 2GIG-Z-CT100 is simple to install and will completely enhance your 2GIG experience!
Note:
The 2GIG-Z-CT100 will work with 2GIG panels running any firmware version; however, for full feature support (i.e., enhanced user experience through Z-Wave Association reports) firmware version 1.9 or later is required. If a CT100 is added to a system before upgrading panel to version 1.9, it will be necessary to un-learn and re-learn the CT100 after the upgrade to take advantage of additional features.
Includes: (1) 2GIG-Z-CT100 Z-Wave Programmable Thermostat
Ultra Slim Form Factor
Two Year Battery Life
4 Stage Heat
Bright Display with Touch Screen
Improved Z-Wave Range
Auto Mode
Improved User Experience
Part#: 2GIG-Z-CT100