2GIG-PAD1-345 - 2GIG Wireless Keypad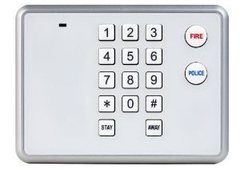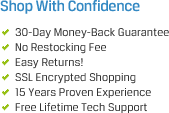 Related Categories
The 2GIG 2GIG-PAD1-345 Wireless Keypad is designed specifically for adding an extra keypad to manage your 2GIG wireless alarm system. The 2GIG-PAD1-345 is a completely wireless keypad that allows you to arm or disarm your 2GIG system, set it in Stay or Away mode, or activate Fire and Panic alarms.
The 2GIG 2GIG-PAD1-345 Wireless Keypad includes (4) Phillip's head screws, four (4) plastic wall anchors, and (2) Lithium coin batteries with a 5 year life span.
Includes: (1) 2GIG-PAD1-345 Wireless Keypad
Wireless Signal Range: 350 ft., open air, with 2GIG Wireless Alarm Control Panel
Code Outputs: Key press 0-9; *; #; STAY; AWAY; FIRE; POLICE; Supervisory; Low Battery
Transmitter Frequency: 345.000 MHz (crystal controlled)
Transmitter Frequency Tolerance: ± 15 kHz
Transmitter Bandwidth: 24 kHz
Modulation Type: Amplitude Shift Keying—On/Off Keying (ASK-OOK)
Unique ID Codes: Over one (1) million different code combinations
Supervisory Interval: 70 minutes
Peak Field Strength: Typical 50,000 uV/m at 3m
Dimensions (WxHxD): 5.73 x 4.25 x 1.00 in. (14.6 x 0.8 x 2.5 cm)
Weight (including battery & bracket): 7.75 oz. (219.7 g)
Housing Material: ABS plastic and poly-carbonate
Color: White with gray trim
Operating Temperature: 32° to 120°F (0° to 49°C)
Relative Humidity: 5-95% Non-Condensing
Battery (installed): Two (2) Panasonic CR2032, or equivalent Lithium batteries
Regulatory Listing(s): ETL, FCC Part 15, Industry Canada
Warranty: Two (2) years
Included Accessories Four (4) Phillip's head screws, four (4) plastic wall anchors
Part#: 2GIG-PAD1-345
2GIG-PAD1-345 Installation & Mounting Guidelines
1. Simultaneously press both tabs on top of the keypad to separate mounting plate from main keypad.
2. Place mounting plate in desired location and ensure the plate is level.
3. Secure the mounting plate with 4 screws in the provided holes.
4. To connect the batteries, remove the two battery pull tabs located near the metal clips.
5. To reattach keypad insert the bottom portion onto the mounting plate first and then tilting upward, snapping the keypad into place.
2GIG-PAD1-345 Programming
For programming details, refer to your 2GIG Installation & Programming Instructions.
Testing
Before mounting the keypad, verify that the mounting location provides good RF communication to the panel. To verify, do the following:
1. Put the control panel into sensor test mode.
2. Press and hold any numeric key for at least 2 seconds.
3. Listen for siren or keypad beeps to determine appropriate response.
4. Exit sensor test mode.
Note: It is recommended that a system test be performed per the Operation & User's Guide at least once a year.