2GIG-CO3-345 - 2GIG Wireless Carbon Monoxide Detector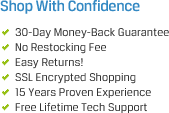 Related Categories
The 2GIG 2GIG-CO3-345 Wireless Smoke/Heat Detector is a 3V battery-powered wireless detector designed specifically for the 2GIG wireless alarm system. The detector consists of an electrochemical carbon monoxide sensor assembly coupled to a wireless transmitter. The Wireless Carbon Monoxide Alarm communicates with the control panel and can send alarm, tamper and battery condition messages to the systems receiver.
The 2GIG 2GIG-CO3-345 Wireless Carbon Monoxide Detector features a built-in 85 decibel sounder, tamper protected case, full monitoring of alarm, low battery, and tamper conditions, and an end-of-life detector.
The 2GIG-CO3-345 includes: Wireless Carbon Monoxide Alarm with base, Installation guide, Pack of screws and fixings, Stickers as appropriate and (1) CR123A Panasonic battery.
Includes: (1) 2GIG-CO3-345 Wireless Carbon Monoxide Detector
Included lithium battery
Built-in 85 decibel sounder
Tamper protected case
Full monitoring of alarm, low battery, and tamper conditions
End-of-life detector
ETL listed
Part#: 2GIG-CO3-345