22/4-SOL-COIL-GY - 22/4 Solid Alarm Wire, 500ft Coil Pack, Grey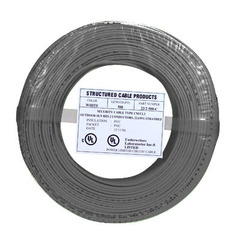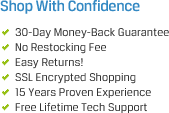 Related Categories
The SCP-22/4-SOL-COIL-GY is a 500ft coil pack of Grey 22/4 solid alarm wire. It is ideal for alarm system installations in the home and business. The 22/4 solid alarm features (4) color coded conductors used to wire alarm peripherals such as PIR's, keypads, and glass break detectors back to the alarm panel. A 4 conductor alarm wire can be used to support all alarm peripherals that require cable pairs for both the signal and power.
The SCP-22/4-SOL-COIL-GY comes in a 500ft coil pack format. Coil packs support faster installations and less clean up! Using a coil pack allows the wire to pull much easier than a box, plus the small size of the coil pack means the wire is much easier to handle and manage.
The SCP-22/4-SOL-COIL-GY includes a CMR rating meaning it supports the local building codes for both residential and commercial non-plenum installation requirements. It is always important to use the right security cable for the job!
Includes: (1) 500ft Coil Pack - 22/4 Solid Alarm Wire - Grey
Color: Grey
Conductor: 22 AWG Bare Copper – Solid
Insulation: PVC
Electrical Properties: 300 V Max
Nom Cond DC Resistance, ohms/1000ft: 18
Insulation Wall Thickness, Inches: 0.006
Conductor Insulated O.D. Insulated O.D.,Inches: 0.039
Jacket Wall Thickness, Inches: 0.015
Finished Cable O.D., Inches: 0.072x0.107
Overall Temperature Rating (degrees Celsius): 75
Nominal Impedance (ohms): 86
RoHS Compliant
UL Listed
CMR Rated
Part#: SCP-22/4-SOL-COIL-GY