SC2202RWH-500 - 22/2 Solid Alarm Wire, 500ft Coil Pack Box, White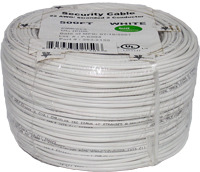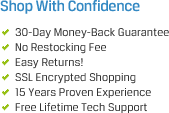 Related Categories
For project pricing and freight quotes on large wire & cable orders please call us now! 1-855-818-5556
The 22/2 solid alarm wire is most commonly used in residential and commercial alarm system installations. 22/2 solid alarm wire can also be used in a wide range of low voltage power, signal, and communications applications.
In a traditional hard wired alarm system installation the 22/2 solid alarm wire is used to connect the door and window sensors to the alarm panel. The 22/2 wire must be ran from the alarm panel to each door and alarm contact installed in the home or business. Door and window sensors require a 2 wire installation. The 22/2 alarm wire can be connected to contacts using screw down terminals or wire B connectors.
This 22/2 solid alarm wire is white and comes as a 500ft coil pack. The coil pack uses clips and a plastic bag to contain the wire. All you do is poke a hole in the center of the package and start dispensing the wire right out of the package. Using coil packs save room, and allows you to feed and pull wire faster.
Includes: (1) 500ft 22/2 Solid Alarm Wire
Coil Pack - White
Conductor: 22 AWG Bare Copper – Solid
Insulation: PVC - Green/Red
Jacket: PVC with Rip Cord
Electrical Properties: 300 V Max
Class 2 Power Limited Circuit Cable and Communications
Cable for General Purpose Applications
UL Listed
CMR-CL2R Rated
Part#: SC2202RWH-500