2 Cat 6e, 2 RG6 Quad Shield Structured Combo Cable, 500ft Spool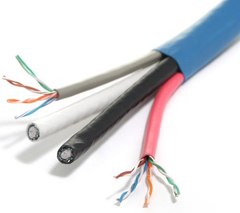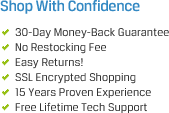 Related Categories
The 2+2 structured cable is a combination cable that includes 2 RG6 Quad Shield Cables and 2 Cat 6e Cables bundled in an overall jacket. This cable is ideal for residential pre-wires and commercial network installations. The 2+2 cable simplifies an installation by allowing you to pull multiple voice and data cable locations all at once. This allows for a faster and cleaner cable installation.
The 2+2 structured cable uses high quality coaxial cables and 550MHz cat 6e cables to help deliver voice, data, and video signals throughout a network. Using the 2+2 structured cable simplifies your installations while allowing you to better manage your cable infrastructure.
The high performance Cat6e cables in this structured cable allow you to install the fastest network solution available in your home or business!
Includes: (1) 2 Cat 6e, 2 RG6 Quad Shield Structured Combo Cable, 500Ft
Designed for telephone and other communication circuits such as voice, data, and audio for on-premise customer systems
Spool holds 500 feet of coaxial cable and cat 6e data cable
Cables are jacketed together for easy cable running
Overall jacket and Cat 6e cables include rip cord
Ideal for new construction or remodeled homes
Components: (2) Cat 6 550 MHz, (2) RG6 Quad Shield CCS
Rated Voltage: 300
Temperature Rating: 75 C
UL and CM Rated
500ft Spool
Part#: 2+2/Cat 6