16-4/Cat5e - Cable (1) 16-4 Speaker Wire and (1) Cat5e 350Mhz Cable, 500ft Spool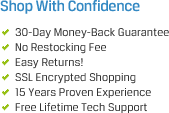 The 16-4/Cat 5 350 structured cable is a combination cable that includes (1) 16-4 speaker wire and (1) Cat5e cable. This structured cable includes both cables together with an overall jacket. The combination of both cables together makes pulling and installing both audio and data cables fast and easy.
The first component of the 16-4/Cat 5 350 structured cable is a high performance 16 gauge 4 conductor speaker wire. It is made with 65 strand oxygen free bare copper, has a CM and UL rated jacket, and has color coded conductors. The second component is a high speed Cat5e cable. The Cat5e cable has 24 gauge conductors, has a 350 MHz rating, and includes a ripcord. There is also a ripcord built-in to the overall jacket that makes stripping the cable easy.
Includes: (1) 16-4 Speaker Wire and (1) Cat5e 350Mhz Cable, 500ft Spool
Designed for voice, data, and audio applications
16 AWG Stranded 4 Conductors
65 Strand Oxygen Free Bare Copper
Category 5e 4 Pair UTP 350MHz rated
Rated Voltage: 300
Temperature Rating: 75 C
UL and CM Rated
500ft Spool
Part#: 16-4/Cat 5 350