134VSC - Pach and Company Digital Video Recorder (DVR) Lock Box, Small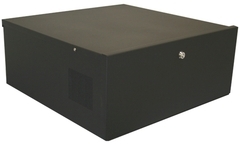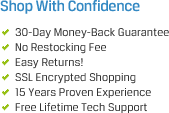 Related Categories
If you are looking for a high quality DVR lock box to protect and secure your security DVR look no further than the Pach & Company 134VSC Small Digital Video Recorder (DVR) Lock Box. The 134VSC is perfect for the home or business, and is the #1 way to ensure the most valuable component of your CCTV system is 100% secured.
The 134VSC is the smallest of our DVR lock boxes with the dimensions of 13"w x 14"d x 5"h. It features a removable lid for easy access, air vents with a high speed fan pre-installed, cable knocks outs to easily routes cables in and out of the box, and a stainless steel keyed barrel lock. The 134VSC is constructed using high quality 16 gauge cold rolled steel with a powered coated finish. Which means it is built to withstand even the toughest environments.
Using a DVR lock box is vital to not only protecting your investment but also securing the valuable video that is captured by your security DVR. It is really a small price to pay to ensure your system is protected. A DVR lock box is the best option for ensuring your DVR is not tampered with or damaged by someone, or simply stolen by a thief.
The 134VSC Small DVR lock box includes: Power Cable, Fan, Fan Filter, Fan Finger Guard, Lock, and Keys.
Includes: (1) 134VSC Digital Video Recorder (DVR) Lock Box - Small
Use to secure a security DVR
Removable lid for easy access to equipment
Single Air vent to ensure proper air circulation
Cable knock-outs to ensure power cables, video cables, and any other system cables can easily enter and exit the housing
Stainless steel keyed barrel lock
16-gauge cold rolled steel with powdered coated textured finish
Shelf and/or wall mount
Fan: 120 V. AC High Speed Ball Bearing
Includes power cord, single fan, and filter
Pre-drilled holes for optional wall mount
Dimensions: 13"w x 14"d x 5"h
UL Approved
Part#: 134VSC
Pach and Company 134VSC Small DVR Lock Box - FAQs
What is step 1 in choosing a DVR Lock Box?
Step 1 is to evaluate the dimensions of your DVR and choose the lock box that will be support its dimensions. The 134VSC has dimensions of 13"w x 14"d x 5"h. So it is mostly used for smaller recorders. It is more common for 4 and 8 channel DVRs where little space is required.
What is the best location for the 134VSC at my home?
If you have an existing system then you have no other option but to install it right where your DVR is located. If you are going to do a new installation then you have many options. You install it in a cabinet, closet, office area, attic, basement, or anywhere else you see fit. The location you place your DVR is really driven by your cabling. The location you choose will need local power, and you need to run all your video and power cables from your camera locations back to the DVR. The 134VSC is compact and gives you the diversity you need so it can be located almost anywhere.
---
Related Products