12-4 - 12 Gauge 4 Conductor 65 Strand Speaker Wire, CL3 Rated, 500 ft, White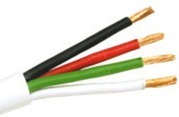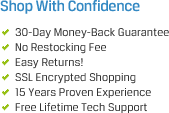 Related Categories
Don't make the mistake of using the wrong speaker wire for your home theater or professional audio installation. This speaker wire is a 12 4 speaker wire features all the high quality material needed for a clean premium audio sound. This cable is a high strand (65 Strand) speaker wire constructed with oxygen free copper (OFC). It is UL and CL3 rated making it the perfect cable for professional in wall speaker wire installations. Also, included with this cable is a premium UV and direct burial rated jacket for all around protection and durability. The direct burial rated jacket used on this cable make it the ideal solution for both indoor and outdoor 12 gauge speaker wire installations.
At Cabling Plus all of our speaker wire products are classified as direct burial rated cables. Who wants to buy a box of speaker wire for indoor purposes and another for outdoor purposes? Now one cable is constructed to combat the demands of an installation in the wall, in the ground, or in the sun! Now you have a premium professional grade 12 4 speaker wire without the premium price!
Not sure what gauge of speaker wire you need? This 12 4 speaker wire is the perfect solution for longer than normal speaker wire runs. It is recommended to use 12 gauge speaker wire to support any cable runs that are over 200 ft. Choosing the right gauge speaker wire will make the difference between a clean crisp sound and poor performing speakers. Don't let your speakers system underperform because you over-looked the speaker wire.
Includes: (1) 500ft box of 12 4 speaker wire
12 Gauge Speaker Wire
Made with 99.999% OFC Copper
UL TYPE: CM, CL3 & PLTC
High-strand Bare Copper
Direct Burial and Sunlight Resistant
Insulation: PVC
Part#: 12 4 Speaker Wire