ICCMSLRW05 - ICC 5' Runway Rack-to-Wall Kit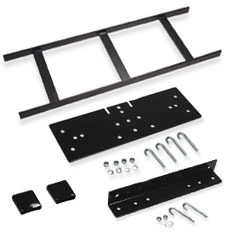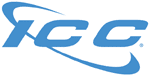 Related Categories
The ICC ICCMSLRW05 5' Runway Rack-to-Wall Kit is a complete solution for supporting cable from the wall to a two or four post distribution rack. The ICCMSLRW05 is a bundled kit that includes: (1) 5' straight section ladder rack runway, (1) relay rack bracket, (1) wall support angled kit, and (1) pair of runway end cap.
The ICC ICCMSLRW05 5' Runway Rack-to-Wall Kit is ideal for supporting horizontal cable running overhead, providing an effective means to evenly distribute cable loads in the telecom closet and open architectural areas. In a network rack installation the relay rack bracket in the ICCMSLRW05 kit mounts onto on the top of the rack and creates the connection between the 5ft ladder rack piece and the actual rack. The wall angled bracket will attach to the wall to create a base for the ladder rack to attach to the wall. The runway caps will go on the end of the ladder rack (on the rack side) to cover the sharp edges that could cause an injury.
The entire ICCMSLRW05 kit is simple to install and includes all the hardware needed for a successful installation. The ICCMSLRW05 is compatible with the entire line of network racks from ICC Cabling Products.
Includes: (1) ICCMSLRW05 5' Runway Rack-to-Wall Kit
Designed with durable steel construction, black textured powder coated, providing strength and stability for long lasting use
Designed to support horizontal cable running overhead, providing an effective means to evenly distribute cable loads in the telecom closet and open architectural areas
Easy to configure modularized system, designed to be compatible with all common cable management systems, for routing cables horizontally, vertically, or around obstacles
Used with all ICCMS distribution and cable management racks
Part#: ICCMSLRW05
---
Related Products