ICCMSR4P84 - ICC 4 Post Network Equipment Rack, 7 ft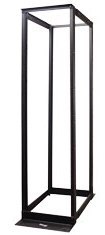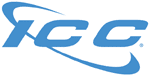 Related Categories
The ICC ICCMSR4P84 7ft 4-Post Distribution Rack is a professional grade solution for supporting large rack-mountable network communications equipment in telecom/data rooms and other network facilities. The ICCMSR4P84 is designed with 9 AWG aluminum construction, black powder coated, lightweight and sturdy, making it ideal for installing voice and data equipment such as patch panels, active components, shelves, drawers, and cable management products creating a neat, structured, and organized cabling system.
The ICCMSR4P84 network equipment rack offers a maximum adjustable depth of 32 inches, and provides the flexibility to accommodate small and large equipment installations. The rack's adjustable depth and added stability make them particularly suited for heavier and deeper equipment that may exceed the load capacity of a standard 2-post rack. The ICCMSR4P84 network rack conforms to all TIA/EIA standards for 19" equipment mounting.
The ICC ICCMSR4P84 7ft 4-Post Distribution Rack includes: (2) Top Angles, (2) Base Angles, (4) Side Channels, (4) Extension Channels, (8) Extension Brackets, (24) 3/8-16 Bolts, (24) 3/8 Lock Washers, (24) 3/8-16 Nuts, (16) 1/4-20 Carriage Bolts, (16) 1/4-20 Lock Washers, and (16) 1/4-20 Nuts.
ICCMSR4P84 Specifications:
Includes: (1) ICCMSR4P84 4 Post Network Equipment Rack
Adjustable from 27" minimum to 32" maximum depth
Provides 45 rack mount spaces on front and rear side for mounting different types of equipment
Compatible with ICC's Rack Floor Mount Kit (ICCMSRFLKT)
Additional racks can be ganged on the sides if necessary
Printed rack mount spec numbering for easy installation
Used with any network cabling rack mount devices and components
Installation instructions
Part#: ICCMSR4P84
What is the purpose of using a 4 post network rack?
4 post racks are usually used in larger network installations. The 4 post rack gives you the ability to support larger and heavier network devices and components. Usually the heavy devices used in a network installation include servers, power supplies, multiple routers and switches, huge bundles of cables, and cable management. The weight limit of a 4 post rack can exceed 1500 pounds which is double the weight limit of a traditional 2 post rack. So it is important to evaluate the weight and size of the network products you need to support and choose the best rack for your needs. A 4 post rack is also commonly used in applications where the end-user expects future growth and network expansion. Planning for future growth is very important when implementing a new network.
Do I need special rack shelves for a 4 post rack like the ICCMSR4P84?
4 post racks allow you to use both 4 port and 2 port rack shelves. This gives you the flexibility to support both heavy and lite weight devices. 4 post rack shelves are designed to support the heaviest devices like large power supplies and/or servers. All 2 and 4 post rack shelves can be attached to a 4 post rack.
Is the ICCMSR4P84 rack easy to assemble? Do I need to buy extra parts?
The ICC ICCMSR4P84 comes with all the hardware needed for a complete installation. Attaching the side channels to the top and bottom brackets takes very little effort. No extra hardware is needed but you will need basic hand tools for assembly. The ICCMSR4P84 will come in a box with all the screws, bolts, washers, and installation instructions in a bag. The side channels and brackets will need to be attached together. A complete installation of a 4 post rack can be done fast and easy!
What does it mean for the ICCMSR4P84 to be adjustable?
The ICC ICCMSR4P84 is adjustable from 27"minimum to 32"maximum depth. This adjustment capability gives you the ability to adjust the rack to support even the largest rack mountable equipment. Evaluate the equipment you are trying to rack mount and set the ICCMSR4P84 at the best depth for supporting your installation.
What accessories do I need for a 4 post rack installation?
There are numerous accessories that can be used to support your rack installation. You can choose from a huge selection of rack shelves, cable management products, and electronic components/devices. Numerous rack accessories are also available for assisting in installing the rack, bracing the rack, and attaching ladder rack to the 4 post rack to support cabling.
Do I need to attach a 4 post rack to the floor?
Floor mounting kits are available to ensure your 4 post rack is stable and secure. Since the entire purpose of using a 4 post rack is to support the heaviest equipment, it is very important to secure the rack to the floor. For increased support you can also use ladder rack from the wall to the rack to not only support in cable management, but also to give the rack addition support.
---
Related Products