ICCMSABRS6 - ICC EZ Fold Wall Mount Hinged Bracket, 6 RMS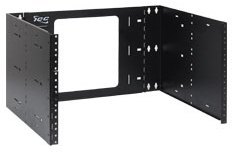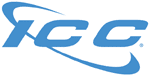 Related Categories
The ICC ICCMSABRS6 EZ Fold Wall Mount Hinged Bracket is designed to support space saving cabling applications. It offers 6 rack mount spaces that can be used to mount any rack mountable electronic devices and components. The ICCMSABRS6 is perfect for mounting patch panels, shelves, drawers, servers, routers, switches, and cable management. It also gives you the flexibility to mount any security, surveillance, and automation equipment.
The ICCMSABRS6 offers an innovative EZ FOLD design that makes it compact, lightweight, and inexpensive to ship. It supports the mounting of standard 19" equipment, and gives you 15 inches of depth. With the ability to support up to 20 pounds of equipment the ICCMSABRS6 simplifies installations while offering a cost effective solution for managing equipment.
The ICCMSABRS6 does not need any assembly and includes all necessary mounting screws. Use the ICCMSABRS6 EZ Fold Wall Mount Hinged Bracket to save time and money in all your commercial and residential network installations.
To add a base and top lid to the ICCMSABRS6 wall mount bracket use the ICCMSABRSC EZFOLD enclosure kit.
Includes: (1) ICCMSABRS6 EZ Fold Wall Mount Hinged Bracket 6 RMS
Designed with steel construction with black powder coating
15" depth
Up to 20 lbs. weight capacity when properly secured to the wall
Divided hinge allows easy access for upgrades and maintenance
Ideal for installations with space restrictions
6 rack mount spaces (RMS)
Compatible with EZFOLD enclosure kit ICCMSABRSC
Includes mounting screws
Part#: ICCMSABRS6
Frequently Asked Questions About The ICC ICCMSABRS6 Wall Mount Bracket - FAQs
What does EZ Fold mean?
The ICCMSABRS6 is part of the ICC family of EZ Fold Wall Mount Brackets. These brackets fold to make them more compact for shipping and installation purposes. Out of the box these brackets will un-fold and support a fast and simple installation. There is no assembly needed when using the EZ Fold Brackets.
What type of equipment can I use the ICCMSABRS6 to support?
Wall mount brackets are used to house a huge variety of electronic equipment, network devices, equipment shelving, and cable management products. Using a wall mount bracket is common in areas where space is limited and the space needed in an installation is minimal. The ICC ICCMSABRS6 provides 6 rack mount spaces to support equipment. The ICCMSABRS6 is popular for housing networking, security, surveillance, access control, and fiber-optic equipment in the home or business.
What are the limitation of using the ICCMSABRS6 wall mount bracket?
It is important to note that the ICCMSABRS6 has a 30 lb. weight capacity, which means you can't over-load it with heavy equipment. There are other wall mount racks and brackets available that provide a higher weight capacity if needed. The ICCMSABRS6 also has a 15 inch depth so it is important to evaluate the equipment you are mounting and ensure you have the depth needed for a successful installation.
What does "Hinged Bracket" mean?
All of the ICC EZ Fold Brackets have the hinged feature. The hinged feature allows you to open the bracket so you can get behind the equipment easier during the installation and future moves, adds, and changes. Having access behind your equipment is very important. Many wall mount brackets that are fixed and not hinged, make it very hard to get behind the equipment with your punch down tool and cable tester to perform work.
What is the best location for mounting a wall mount bracket?
Wall mount brackets are great because you can almost mount them anywhere. You can mount them in a room, closet, hallway, or any location as long as you have a flat wall surface. If it is a new installation you will want to position the bracket in a location that is safe, secure, and where cabling permits. Since the bracket will probably house equipment that requires cabling you will need to position the bracket in an area where cables can be easily ran to it. You will also most likely need power so you have to account for the electrical. It is recommended to install a wall mount bracket high enough on the wall so it is comfortable to work on the equipment. Plus you want the bracket to be positioned in an area where it is safe and cannot be easily tampered with.
---
Related Products