ICCMSABRS4 - ICC EZ Fold Wall Mount Hinged Bracket, 4 RMS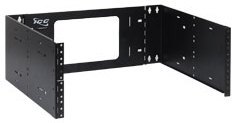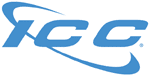 Related Categories
The ICC ICCMSABRS4 is a cost effect, space saving wall mount bracket used for commercial and residential cabling applications. The ICCMSABRS4 provides 4 rack mount spaces for wall mounting patch panels, equipment shelves, drawers, network devices, automation equipment, and any other electronic devices. It will also support any cable management products so you can dress your cables and give your installation the most professional look!
The ICCMSABRS4 offers an innovative EZ Fold design that supports a fast clean installation. It also provides a convenient hinged design so you have plenty of room to work during installation, maintenance, and upgrades. The compact EZ Fold design of the ICCMSABRS4 will even save you money in shipping costs!
The ICCMSABRS4 requires no assembly and can be mounted and ready for use in a matter of minutes. It features a 15" depth and can support up to 15 pounds of equipment. This is the ideal space saving rack solution for any networking, audio, video, security, home automation, and surveillance applications.
To add a base and top lid to the ICCMSABRS4 wall mount bracket use the ICCMSABRSC EZFOLD enclosure kit.
Includes: (1) ICCMSABRS4 EZ Fold Wall Mount Hinged Bracket 4 RMS
Designed with steel construction with black powder coating
15" depth
Up to 15 lbs. weight capacity when properly secured to the wall
Divided hinge allows easy access for upgrades and maintenance
Ideal for installations with space restrictions
4 rack mount spaces (RMS)
Compatible with EZFOLD enclosure kit ICCMSABRSC
Includes mounting screws
Part#: ICCMSABRS4
---
Related Products