ICACSPDTEH - ICC Cabling Products JACKEASY Handheld Termination Tool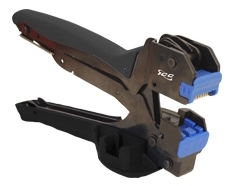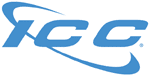 Related Categories
The ICC ICACSPDTEH JACKEASY Handheld Termination Tool is a 4 pair modular connector termination tool designed to terminate the ICC HD & EZ Cat5e, Cat 6, and voice keystone jacks. The ICACSPDTEH terminates 8 wires and cuts excess wire in one squeeze reducing installation time and improving terminations for increased performance and reduced call backs.
The ICACSPDTEH offers a space saving design, ergonomic grip, and rugged construction. Save time and money on the job by using the EZ Tool to terminate all your voice and data keystone jacks!
We offer the enire line of ICC Cat5e EZ and HD Keystone Jacks for use with the ICACSPDTEH JACKEASY Handheld Termination Tool!
Includes: (1) JACKEASY Handheld Termination Tool and Instructions
Terminates 4 pairs of UTP cable in one squeeze
Cuts off excess wire and insulation for clean termination
Works with ICC EZ and HD style modular voice and data connectors
Space-saving and economical design
Ergonomic grip for effortless application
Capable of termination on a flat surface
Rugged construction
Part#: ICACSPDTEH
Can I use the JACKEASY to terminate all brands of voice and data jacks?
No you cannot. The ICACSPDTEH is designed specifically only for the ICC HD and EZ Cat5e, Cat 6, and voice jacks. It will not terminate other brands of keystone jacks. The ICC Cat5e, Cat 6, and Voice keystone jacks have a reputation for being the best priced and best performing network cabling jacks in the market place.
Why should I buy the ICC ICACSPDTEH JACKEASY tool?
No other tool makes it faster and easier to terminate keystone jacks. Traditionally, terminating a voice and data jack would entail using a punch down tool to punch down each conductor of the cable individually. Once all the conductors of the cable are punched down you would have to also go back and use electrician's scissors to clean up the excess cable. This entire process takes a long time which could also cost you more money in installation time. The ICACSPDTEH JACKEASY tool allows you to punch down all cable pairs at once. At the same time it cuts and trims the excess cable leaving a clean solid installation. If you are a professional installer or IT technician at a company where numerous voice and data jacks need to be terminated, this is a must have tool! It will pay for itself in a single day!
Do I need to buy any special extra parts for the ICACSPDTEH?
The JACKEASY tool comes with everything you need to immediately start terminating cables right out of the box. It offers the ability to hold it right in your hands to terminate jacks, or you can use its flat base to set the tool on the ground or a table to assist you as you apply pressure. It is light weight and has an ergonomic design that makes it comfortable to handle. This is a key product for those installations where 100's of jacks need to be terminated.
Will the ICC ICACSPDTEH JACKEASY tool work with all cable types?
The ICACSPDTEH JACKEASY tool will work with any cable brands. This includes all Cat5e and Cat 6 cables in plenum and non-plenum forms. The cable brand is not what matters. As long as you are using the ICC brand keystone jacks the JACKEASY tool will work perfectly.
Will the blades on the ICACSPDTEH JACKEASY tool have to be replaced eventually?
Like any punch down termination tools the blades will eventually need to be changed. The JACKEASY tool does not use traditional blades to terminate the jacks. And since the tool manages its termination force it ensures that its blades last a long time. Replacement blades (Part# ICACS8WUEH) are available for the ICACSPDTEH if you notice a decrease in performance.
---
Related Products