IC1078F5WH - ICC Cat5e High Density Modular Keystone Jack, White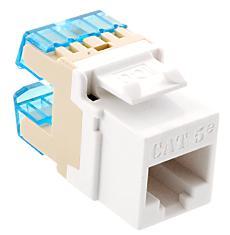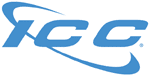 Related Categories
The IC1078E5WH White High Density Cat5e keystone jack is an 8-position 8-conductor (8P8C) female RJ45 connector and is designed with a smaller rear footprint maximizing space utilization in confined work areas. The IC1078E5WH is engineered to provide superior performance and reliability, supporting up to Gigabit Ethernet applications. The advanced printed circuit board design is tuned to provide optimum signal quality with maximum headroom, allowing the IC1078E5WH keystone jack to exceed TIA/EIA Category 5e performance standards. Don't make the mistake of cheap no-name jacks cause your network to under-perform. Use only the best keystone jacks to support your high performance Cat5e network installation.
Use the ICC IC1078E5WH High Density style keystone jacks to allow for more room when using decorative style plates and inserts. Often the ports on 4 and 6 port decorative plate inserts are too close together to install two standard Cat5e jacks side by side. The straight rear IDC termination block on the ICC high density jacks solves this problem completely. The high density style jacks easily fit side by side while also giving you plenty of room on the back to work. The ICC high density keystone jacks will still fit in any common wall plate or faceplate.
The IC1078E5WH White High Density Cat5e keystone jack also works great with the ICC Classic Keystone Wall Plates.
Includes: (1) White IC1078F5WH ICC High Density Cat5e Keystone Jack
CAT 5e rated connectors provide excellent performance for data networks requiring maximum speed and bandwidth
PCB technology provides maximum performance and superior signal quality
Enhanced crosstalk cancellation reduces return loss and improves performance by rejecting noise and unwanted signals
Reduced rear footprint allows for greater connectivity density and provides for more port configurations in a smaller area
Exceeds Category 5e industry performance requirements
Includes an integrated TIA-568A/B color wiring diagram
Backwards compatible to all lower rated category components
Available in almond, black, blue, gray, green, ivory, orange, purple, red, white, and yellow
Installation instructions included
UL listed
Part#: IC1078F5WH
---
Related Products