IC107HDMBK - ICC Professional Grade HDMI Keystone Jack, Black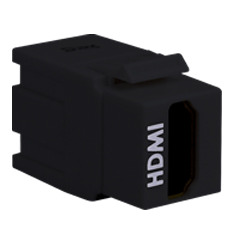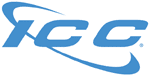 The ICC IC107HDMBK is a professional grade HDMI keystone jack designed to fit in any standard keystone wall plate or Decora insert. This HDMI keystone jack is a very popular option on home entertainment devices from televisions to DVD players to audio receivers. The IC107HDMBK features 99.99% Oxygen free copper conductors, 24k gold plated connectors, and copper foil shielding for EMI/RFI rejection. This HDMI keystone jack option serves as a feed through female to female HDMI and is certified to support standard enhanced and high-definition video (up to 1080p) along with 8 channels of digital audio on a single cable.
The IC107HDMBK HDMI keystone jack is designed to distribute high quality video, audio and other communication needs with contemporary styling for commercial or residential applications. Install the this premium HDMI keystone jack option into any standard keystone wall plate to support installations where HDMI cables are ran in the wall. If you are using longer HDMI cables and installing them in the wall it is best practice to use this HDMI keystone jack so you can leave the more expensive HDMI cables in the wall while you use shorter less expensive HDMI cables to come off the wall and into your devices. This practice will protect those longer more expensive cables from day to day use that could cause them to be damaged. The IC107HDMBK HDMI keystone jack also creates a more permanent HDMI installation that has numerous long term benefits.
Includes: (1) Black HDMI Keystone Jack
99.99% Oxygen Free Copper conductors with gold plating
Copper Foil shielding for rejection of EMI and RFI
HDMI (High Definition Multimedia Interface) connectors are ideal for high-definition video and audio devices.
Rugged and durable construction
Compatible with all classic and Decora style faceplates and inserts
Housing available in white
HDMI (High Definition Multimedia Interface) connectors are ideal for high-definition video and audio devices
HDMI certified and supporting standard, enhanced and high-definition video (up to 1080p) along with 8 channels of digital audio on a single cable
UL listed
Part#: IC107HDMBK
---
Related Products