ICRDSMMBK1 - ICC Mini Net Media Center with Modules Pre-Loaded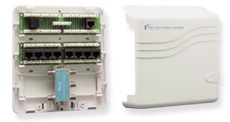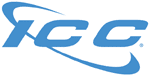 Related Categories
The ICC ICRDSMMBK1 Mini Distribution Center (MDC) is a structured cabling solution for multi-unit buildings, small homes, and retrofit installations to existing homes. This complete distribution system provides support for telephony, data and CATV connectivity in one compact enclosure that fits small areas within the residence. Engineered for ease of installation, the surface-mounted distribution center provides cable routing by providing cable access openings on both sides of the enclosure.
The ICRDSMMBK1 is a fully populated pre-assembled Mini Distribution Center that provides distribution for 8 telephony ports, 8 Cat5e data ports, and a 1 X 4 CATV video splitter. It also includes an RJ-31X security interface jack and an 8P8C telephony expansion jack.
The ICRDSMMBK1 includes a removable cover, and mounts directly on the surface of your wall. No cutting of walls is necessary.
Includes: (1) ICRDSMMBK1 Mini Net Media Center with Modules Pre-Loaded
Provides excellent solution for condos, town homes, smaller homes, and for remodeling installations
Designed to be surface mounted, and suited for compact areas with flexible needs for distribution of voice, data, audio, or video with dual side access for easy cable entry and exit
Includes ICRDSVPA10 8-port telephone module with RJ31X jack, ICRDSDPA10 8-port CAT 5e data module, and ICRDSAVP4B 1 GHz 1X4 video splitter module
8-port telephone module is bridged, supports up to 4 incoming telephone lines with 8 outputs per each line, and includes an RJ31X jack for a security system
8-port CAT 5e data module exceeds ANSI/TIA/EIA-568-B.2 Category 5e connecting hardware requirements
Video splitter module is designed with 1 input by 4 input with a frequency range of 5 MHz to 1GHz providing excellent signal quality for splitting cable, satellite, or antenna signals
Can also be used with ICRDSVPB10 8-port telephone module with expansion jacks, ICRDSAD14B audio distribution module, and ICRDSDMBUM universal electronics bracket for active components if needed
Dimensions: 7 ½ " X 6 ½" X 3 ½ "
UL Listed
Part#: ICRDSMMBK1