HTC-7QQ-3.6 - Hunt Electronics Infrared Bullet Camera, 3.6mm Lens, 400TVL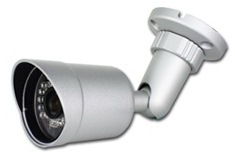 Related Categories
The Hunt Electronics HTC-7QQ-3.6 is a 400TVL high resolution weatherproof and vandal proof bullet camera designed for both residential and commercial CCTV applications. It features a 3.6mm fixed electronic iris lens and 12 high powered infrared LED's that offer a 40ft range. The HTC-7QQ-3.6 is a 12VDC bullet camera, uses a 1/3" CCD Sensor, and includes all the vital features needed in high security applications. The innovative 1/3" CCD Sensor and all solid-state circuitry provides extremely long life and high sensitivity. 
The Hunt Electronics HTC-7QQ-3.6 540TVL Infrared Bullet Camera gives you complete flexibility to mount it almost anywhere. It is simple to mount, fast to install, and includes built-in Infrared LED's, Low Power Consumption, Automatic Gain Control, Automatic Back Light Compensation, Auto White Balance, Integrated Sun Visor, and a Water Resistant IP68 Rating.
The HTC-7QQ-3.6 includes an easy to control mounting bracket, on-board BNC Video Output Connection, on-board DC Jack Power Connection, and Mounting Screws. It is ready for installation right out of the box!
Includes: (1) HTC-7QQ-3.6 400TVL Infrared Bullet Camera, 3.6mm Fixed Lens 
1/3" CCD Sensor
400 TVL Line
3.6mm Fixed Lens
12 Infrared LED's with 40ft. range
Sensitivity: 0 Lux F=1.4
Video Output: 1 Vpp,75 Ohms Composite
Automatic Gain Control
Automatic Back Light Compensation
Auto White Balance
S/N Ratio: More Than 46dB (AGC Off)
Water Resistant IP68 Rating
Electronic Shutter: Up To 1/100,000 sec. (Linear)
Gamma Correction: 0.45
Operating Temperature: -10°C to+45°C
12VDC Power Requirement
12VDC Power Consumption: 250 mA
Part#: HTC-7QQ-3.6