CTX590 - Byte Brothers Pro Tone Professional Network Wire Locator Kit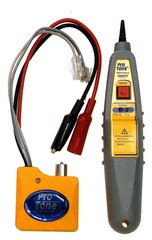 Related Categories
The Byte Brothers CTX590 Pro Tone is a professional grade wire locator that includes a tone generator that can connect to network, phone and other network cables, and a tracer that detects and identifies both the generated signals and 60Hz AC waveforms as well. Use both components together to identify specific wires in bundles or cable runs, or to determine whether a power line is hot or not without contacting it.
The CTX590 Pro Tone includes alligator clips, plugs for specifically testing telephone and network lines, 9V battery, and carrying case. It features volume control, LED indicators, and built-in voltage, polarity and continuity sensing.
This is a must have tester for any low voltage cable installer.
Includes: (1) CTX590 Pro Tone Professional Network Wire Locator
Bright Light: Ultra-bright LED illuminates even the darkest wiring closets to promote accurate, safe work.
Clear Tone Operation: Fluorescent hum filtering circuitry included standard.
Safety warning: 60HZ red colored LED warns of the presence of AC voltage.
Multiple Connection Methods: RJ11, RJ45, and Alligator clips.
Volume Control
Protective Pouch
Convenient built-in voltage, polarity and continuity sensing: A bicolor LED on the tone generator indicates three important functions:
Tests: Voltage present (AC or DC), Polarity: If voltage is present, its polarity is indicated, Continuity:
The perfect, quick way to check for continuity.
Part#: CTX590