5E04SRBL1 - Shielded 350 MHZ Cat5e Cable, 1000 ft, Blue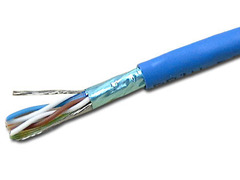 The 5E04SRBL1 is a 1000ft box of blue 350 MHz shielded CMR rated Cat5e cable that is used for high performance network applications where extra protection is crucial. This Super 350 Enhanced Category 5e UTP Cable is designed to exceed today's most advanced UTP cable applications. This cable exceeds ANSI/TIA/EIA 568-A-5 and ISO/IEC 11801 specifications, and is ideal for installations that require a high performance network cable solution.
Use shielded Cat5e cable in areas where you think outside interference may be an issue. In this shielded Cat5e cable all of the conductors are surrounded by an extra foil shielding that will give your network signal extra protection.
Includes: (1) 1000ft Box of Shielded Blue 350 MHz Cat5e Cable
ANSI/TIA/EIA-568-A-5 Category 5e
Rated for commercial and residential network applications
ISO/IEC 11801 Category 5e
CMR Rated - Shielded
Conductor: 24AWG Solid Annealed Bare Copper
Insulation: Polyethylene
Guaranteed 5dB better NEXT than TIA/EIA 568-A-5 Category 5e standards
Positive identification striping on 100% of conductor length
Easily identifiable conductor mates
ETL verified to TIA/EIA 568-A-5 and ISO/IEC 11801
Universally accepted design and approvals for global commercial network installation
Part#: 5E04SRBL1