45-0023-WH - Datacomm Recessed Pro-Power Kit with Straight Blade Inlet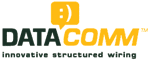 Related Categories
The Datacomm Electronics 45-0023-WH Recessed Pro-Power Kit with Straight Blade Inlet is a complete home theater kit designed to provide power and cable management behind your flat panel TV, amplifier, or other audio and video devices.
To install 45-0023-WH pull an approved 14/2 with ground or 12/2 with ground building wire cable from the installed recessed low voltage cable plate with power to the selected location where the recessed pro-power cable plate with straight blade inlet will be mounted. Install "new construction" or "existing construction" low voltage boxes behind each power outlet on both recessed plates with power. Once both plates are connected via building wire you will have a non-energized connection. To energize this connection, simply plug the supplied 6 ft straight blade extension cord into the recessed straight blade inlet and plug the straight blade end of the extension cord into your surge protector. The 45-0023-WH provides an immediate power outlet without the need of hiring an electrician!
Parts included: 45-0021-WH Recessed Low Voltage Cable Plate with Recessed Power, Recessed Low Voltage Cable Plate with Straight Blade Inlet, 6 Ft. 14/2 with Ground Extension Cord, (3) Wire Nuts, and (2) Old Work Electrical Boxes.

Use the 45-0023-WH for all wall mount LCD or flat panel display installations. This is the solution to give your new home theater system a clean professional look!
Includes: (1) Recessed Pro-Power Kit with Straight Blade Inlet
Color: White
Cut out template included
Installation instructions included
Part#: 45-0023-WH