VH003 - VMP Wall Mount Electronics Component Holder, Black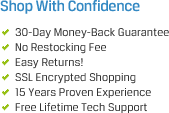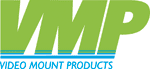 Related Categories
The VMP VH003 wall mount component holder is a stylish way to hold DVD players, DVR's, HD receivers, CD players, VCR's and gaming systems (Xbox 360, Playstation 3, Nintendo Wii). The VH003 mount can be used for a single device or "stacked" for use with multiple devices. Its mounting ring extends 12" from the wall and it has a load capacity of 25 pounds.
The VMP VH003 Wall Mount Electronics Component Holder can be used in conjunction with any TV wall mount to design an entertainment center. It features an integrated cable management system that hides all cables to provide a clean organized look.
All required mounting hardware is included for a successful installation.
Includes: (1) VH003 Wall Mount Electronics Component Holder
Can be used for holding a single device or "stacked" for multiple components
Accommodates DVD players, CD players, DVRs, HD receivers and gaming systems
Mounting ring extends 12" from the wall
Can be used in conjunction with any TV wall mount to design an entertainment center
Load capacity – 25 lbs.
Black powder coat finish
Part#: VH003