TM19A - Tatung 19" LCD CCTV Monitor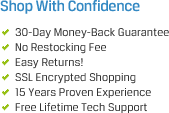 Related Categories
The Tatung TM19A is a professional grade 19" CCTV monitor for use when viewing and monitoring video from a CCTV system. The TM-19 easily attaches to your security DVR via your choice of HDMI, BNC, and VGA inputs. Once installed, you will be able to view the high resolution video that your security cameras are capturing. The TM19A ensures you have the ability to view full 720P surveillance video 24/7!
Other features of the Tatung TM19A 19" LCD CCTV Monitor include Megapixel Display Density, 3D Comb filters, 3D Interlacing, Noise Reduction, On Screen Displays, VESA Hole Configurations, and 4:3 Aspect Ratio.
Many people ask why they can't just attach a standard computer monitor to their security DVR. The reality is that you can! But at the end of the day you will only be causing your system to under-perform. The reason is a computer monitor is not meant to be used 24 hours a day 7 days a week. So a standard computer monitor just won't last very long in a CCTV environment. Also, a computer monitor provides a very low video resolution, which means you will always get poor quality video from your system no matter what. If you have made the investment in high resolution security cameras it only makes sense to be able to view your surveillance video at the same resolution of your cameras.
The Tatung TM19A 19" LCD CCTV Monitor includes a 3 year warranty when purchased from an Authorized Distributor like Cabling Plus!
Includes: (1) TM19A 19" LCD CCTV Monitor
Screen Size: 19" (Diagonal)
Pixel Resolution: 1280 x 1024
Backlight System: CCFL
Luminance: White 300 cd/m²
Viewing Angle: 170° R/L, 160° U/D (CR>10)
Contrast Ratio: 800:1 (typical)
Response Time: 5 msec (G to G)
Power Consumption: 45 W
Power Input: 120-240VAC, 60/50Hz
Speaker Output: 3W + 3W
Input: VGA, DVI Via adapter through HDMI (not included), HDMI, BNC, Audio
Output: BNC Out x 1 (when monitor is on with input selection at BNC In)
VESA Mounting: 75 mm x 75 mm
Storage Temperature: -20C°~55°C
Operating Temperature: 5°C~40°C
Dimension: 17.09 x 2.76 x 16.54 inches
Part#: TM19A
---
Related Products