SK-1011-SQ - SECO-LARM Indoor Stand-Alone Access Control Keypad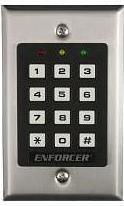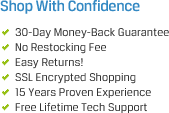 Related Categories
The SECO-LARM SK-1011-SQ is an indoor stand-alone surface-mount access control keypad system that is ideal for office, commercial, and home security applications. The SK-1011-SQ supports up to a 100 users so you can use 100 unique 4 or 8 digit codes with up to 10,000 possible user code combinations.
The SK-1011-SQ is a 100% self-contained security keypad that features a built-in 5-Amp relay output, 12-24V AC/DC power requirement, and programmable lockout after 5-10 unsuccessful attempts to key in code. This stand-alone access controller is easy to install, simple to manage, and includes a durable and attractive stainless-steel face to offer a clean professional look.
The SK-1011-SQ is a feature rich stand-alone access control keypad that makes securing the entry of any facility easy!
Includes: (1) SK-1011-SQ Flush-Mount Outdoor Access Control Keypad
1 Output: Form C relay output (5A@28VDC)
100 unique 4-8 digit codes, 10,000 possible user code combinations
Stainless-steel face, durable and attractive
Easily delete individual codes
Programmable lockout after 5-10 unsuccessful attempts to key in code
Output relay activation buzzer (programmable):
Sounds while the output relay is activated
Relay output inhibit control
Auto or manual code entry checking: Auto mode: All codes have the same number of digits, no # key required after each code. Manual mode: Codes can vary in number of digits, # key must be pressed after every code.
Egress input: Lets users exit the protected premises without keying in the code
Built-in tamper (N.C.) circuit
EEPROM memory: Prevents data loss
Power: 12~24V AC/DC
Part#: SK-1011-SQ