DG85 - Paradox Outdoor High-Security Digital Motion Detector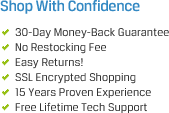 Related Categories
The Paradox DG85 is a high security digital outdoor motion detector. It offers an impact and temperature resistant casing, patented digital motion detection technology, and a dual optical filtering system. The DG85 uses precision optics to identify humans and ignore animals up to 90 pounds.
The DG85 is design to overcome tough environmental conditions with an injected rubber gasket
and complete protection of its electronic circuit which is protected with a plastic cover to withstand water, snow, wind and dust.
Includes: (1) DG85 Outdoor High-Security Digital Motion Detector
Impact and temperature resistant casing (-35°C to 50°C / -31°F to 122°F)
Patented Digital Motion Detection
Extremely reliable and false-alarm free
Dual Optical Filtering System
UV protected lens
Dual optics (2 dual opposed element sensors)
Digital Dual Opposed Detection
Multi-level sensitivity adjustment
Two operational modes (Bus or Relay operation)
Can be used with the Heavy Duty Outdoor Swivel Bracket (SB85W)
Part# DG85