M5028-MPW2 - Computar 2/3" 50mm Manual Iris 5 Megapixel Lens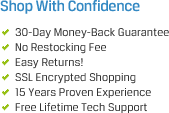 Related Categories
The Computar M5028-MPW2 2/3" 50mm 5 Megapixel Lens is designed with an emphasis on precision performance in close-up applications required in factory automation and image processing areas.
The Computar M5028-MPW2 5 Megapixel Lens features ultra-low distortion, higher relative illumination rate, and locking screws for focus and iris.
Cabling Plus is an Authorized Distributor for the Computar M5028-MPW2 2/3" 50mm Manual Iris 5 Megapixel Lens!
Includes: (1) M5028-MPW2 2/3" 50mm Manual Iris 5 Megapixel Lens
5.0 Megapixel
Full HD Format
50mm C Mount
Ultra low distortion
Higher relative illumination rate
Floating design
Locking set screws for focus and iris
Operation Range: F2.8 – F32.0
Filter Size: M27.0 P=0.5mm
Maximum Aperture Ratio: 1:2.8
Maximum Image Format: 8.8mm x 6.6mm
Peak performance at long distance
Designed for Factory Automation and Image Processing
Part#: M5028-MPW2