Lutron GRX-CBL-46L – Non-Plenum Rated 5 Conductor Control Cable, 1000ft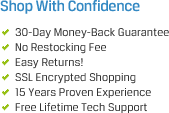 Related Categories
The Lutron 46L is a GRX-CBL-46L equivalent control cable that is designed for use with GRAFK Eye 4000, GRAFIK 5000/6000/7000, Digital microWATT, SoftSwitch 128, SoftSwitch 512, and GRAFIK RPT applications. This control cable is also for high wattage long distance
runs supporting the LUTRON QSC installation.
The Lutron GRX-CBL-46L universal Lutron cable bundles a 12-2 conductor, 18-1 conductor, 22-2 conductor shielded pair, and rip cord into a single easy to pull and manage cable. The Lutron 46L cable offers a 300v rating and includes a non-plenum UL and CL3 rated direct burial jacket.
The Lutron Red power cable features a blue outer jacket with red stripe that allows for easy identification and labeling.
Includes: (1) GRX-CBL-46L 5 Conductor Control Cable for GRAFIX Eye Systems 1000ft
Lutron GRX-CBL-46L Equivalent
Components: 12-2 Conductor, 18-1 Conductor, 22-2 Conductor Shielded Pair (Drain Wire), Rip Cord
Insulation: Non-Plenum PVC
Jacket: Light Blue with White Stripe
Rated Voltage: 300v
Rated Temperature: 75 Degree C
Flame Test: FT4
UL and CL3 Rated
Package: 1000ft
Part#: Lutron 46L-1000