DVS KIT #23 - Linear 12-Channel Wireless Alarm System Kit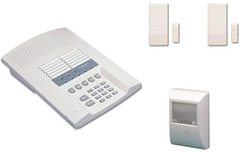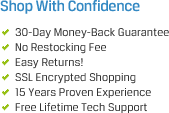 Related Categories
The Linear DVS KIT #23 is a professional wireless alarm system kit designed for both residential and commercial alarm applications. This wireless alarm system kit offers a 12 channel wireless security console and a selection of popular wireless security system accessories. The DVS KIT #23 includes a DVS-1200 12 Channel Supervised Wireless Alarm Console, (2) DXS-31 Supervised Universal Door/Window Transmitters, and (1) DXS-54 Supervised Passive Infrared Motion Detector Transmitter. Everything you need to start building the perfect wireless alarm system!
The DVS KIT #23 allows you to add up to 12 sensors to the system. This allows you to design a complete wireless system to the size and configuration you need. The heart of the kit is the DVS-1200 wireless console. The DVS-1200 console constantly monitors the condition of the system's sensors, displaying which protected doors and windows are open or closed. If an alarm occurs, the console displays which sensor(s) caused it. The DVS-1200 will also tell you which sensor has a low battery and needs to be changed. Each sensor on the system sends an hourly status transmission to the console to inform you of their operating condition. The DVS-1200 console also features built in memory that will retain the user codes and all of the system's programming, even during a total power loss.
The DVS KIT #23 and its accessories are designed and manufactured by the oldest wireless security company in North America. The complete line of Linear Security wireless alarm products are easy to program and simple to install. All of the accessories you add to your consol are pre-programmed to instantly attach to the system. So all you have to do is mount your sensors and turn them on. The console automatically finds each sensor as you add them to the system.
A wireless alarm system is the perfect security option for applications where you just don't want to open up the walls to run alarm wire. A wireless alarm system offers all the features of a traditional alarm system and in most cases even more! Installing a wireless alarm system is perfect for both professional alarms installers and Do-It-Yourselfers. Use a wireless alarm system to protect your home or business in a matter of minutes!
Includes: (1) DVS KIT #23 Wireless Alarm System Kit
Kit contains security console and popular accessories
Two door/window transmitters
One passive infrared motion sensor
Supports up to 12 sensors
All sensors are pre-programmed to easily attach to system/
Easy and quick to install
No wires are needed
Part#: DVS KIT #23