R156004: IDEAL SignalTEK Cable Transmission Tester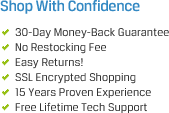 Related Categories
The IDEAL R156004 SignalTEK Cable Transmission Tester allows cable installers to generate PDF test reports. Using real Ethernet data for absolute certainty, these reports prove that installed links provide error-free performance, at Gigabit speeds.
Data transmission testing with the R156004 is a cost-effective way to prove LAN cabling is installed correctly and capable of supporting Ethernet applications. With proven, real-world performance, this tester assures professional on-the-job results, thus providing peace of mind to installers and minimizing call-backs.
The R156004 SignalTEK CT also gives network owners the confidence that installed cabling will support bandwidth-hungry services, such as VoIP, IP CCTV, and video streaming.
Note: IDEAL AnyWARE is a free app for iOS and Android devices that wirelessly connects to the R156004 SignalTEK CT allowing users to transfer PDF & CSV test reports or individual test results to the mobile device. Once on the device the reports can be sent to colleagues via email or cloud based file sharing services.
Includes:
1 - SignalTEK CT Display Unit
1 - Remote
2 - NiMH Batteries
2 - 12 in. Patch Cables
2 - 110-220V Power Supply w/Universal Plug Adapters
1 - USB Wi-Fi Adapter
1 - User Manual
1 - Carry Case