33-864 - IDEAL Tone Generator and Amplifier Probe Kit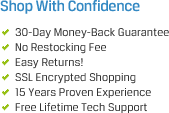 Related Categories
The IDEAL Industries 33-864 is a professional grade tone generator and amplifier probe kit used to trace and identify wires in voice and data applications. The 33-864 is a complete kit that includes both the tone generator and amplifier probe. 
Use the IDEAL tone generator to apply a tone signal to a wire pair or single conductor, and trace with the amplifier probe. When used with the amplifier probe, the tone generator allows technicians to identify a wire within a bundle at a cross connect or at a remote end. Both the toner and probe in this kit include all the connection requirements needed to test and trace twisted pair cables, coaxial cables, and de-energized AC wires.
The amplifier probe in this kit is designed to identify and trace wires or cables within a group without damaging the insulation. It allows for pin point identification even in the most congested cable bundles. This unit can be used with any tone generator. It features a volume control, recessed on/off button, and a battery low indicator. The tone generator also offers an F-connector port for toning and tracing of coaxial CATV cabling systems, includes three different tones selected from front panel, battery status indicator, auto on/off function, and an RJ jack that allows the use of modular cable or alligator clips.
Includes: (1) 33-864 Tone Generator and Amplifier Probe Kit
Convenient built-in voltage, polarity and continuity sensing: A bicolor LED on the tone generator indicates three important functions: Tests: Voltage present (AC or DC), Polarity: If voltage is present, its polarity is indicated, Continuity: The perfect, quick way to check for continuity
Bright Light: Ultra-bright LED illuminates even the darkest wiring closets to promote accurate, safe work
Clear Tone Operation: Fluorescent hum filtering circuitry included standard
Safety warning: 60HZ red colored LED warns of the presence of AC voltage
Multiple Connection Methods: RJ11, RJ45, and Alligator clips
Volume Control
Protective Pouch
Part#: 33-864