IC107LFGWH - ICC RCA to F Connector Keystone Jack, Blue Insert, White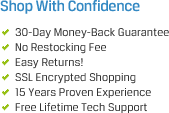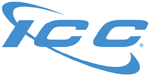 The ICC IC107LFGWH is a high performance RCA female to F connector modular keystone jack that is designed to provide a clean connection point for wired electronics to wall outlets allowing cables to be hidden within the walls or cabinetry. These premium RCA keystone jacks provide superior signal quality with minimal noise for component, composite video, and audio systems.
Install the IC107LFGWH into any standard keystone or Decora wall plate and it is ready for use. After compressing an F connector on the end of your coaxial cable you can simply screw it directly on the rear F type terminal of the connector. The front end of the IC107LFGWH keystone jack is color coded for custom installations and is ready for an RCA plug in connection.
Includes: (1) White RCA to F Connector Keystone Jack with Blue Insert
Ideal for Home Theaters, High Resolution Monitors, and High Fidelity Surround Sound Systems
Seamlessly Integrates with all standard wall plates and faceplates
Ideal for Residential or Commercial Use
UL listed
Part#: IC107LFGWH