HG2Z0414FC-MP - Computar 1/2" 4-8mm Varifocal DC Auto Iris Megapixel Lens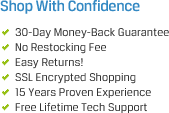 Related Categories
The Computar HG2Z0414FC-MP is a c-mount 1/2" Varifocal DC Auto Iris megapixel lens designed for close-up applications required in factory automation and image processing areas. The HG2Z0414FC-MP offers a 4-8mm focal length, low distortion, robust design, and offers excellent light intensity even in peripheral areas.
The HG2Z0414FC-MP includes a 4-pin mini connector (C Mount)
Cabling Plus is an authorized distributor of the entire line of Computar high performance lenses. Computar offers over 200 state-of-the-art lens products giving you the flexibility needed to get the precise angle of view for every application.
Includes: (1) HG2Z0414FC-MP 1/2" 4-8mm Varifocal DC Auto Iris Megapixel Lens
4-8mm f1.4 Varifocal
1/2" Format, C-Mount
Low Distortion
Ideal for factory automation and image processing areas
Assured excellent light intensity even in peripheral areas
Robust design with built-in locking mechanisms for focus and iris

Part#: HG2Z0414FC-MP